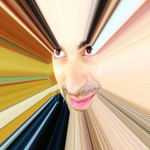 Lababidi Ink
Lababidi Ink: art designed to make you think, for lovers of wit and wisdom. Lababidi Ink is the only authorized brand featuring original art and inspirational quotations by poet Yahia Lababidi, author of 7 critically-acclaimed books of poetry, essays and aphorisms.
Lababidi's poetic and philosophical sayings have gone viral online, are translated internationally and used in classrooms. His latest books are: "Where Epics Fail" (2018) featured on PBS NewsHour & endorsed by Obama's Inaugural Poet, Richard Blanco, as well as "Balancing Acts" (2016), which debuted at #1 on Amazon's Hot New Releases.
To learn more, visit Lababidi's Amazon author page: https://amzn.to/2Q9TNUj
Endorsements:
"Aphorisms are an ancient form, but its current-day master is Yahia Lababidi." —Richard Blanco, President Obama's Inaugural Poet
"Lababidi may be our greatest living aphorist." —Sharon Dolin, author of 6 poetry collections
"I find myself pausing everywhere among [his] wisdoms, wondering why the world stumbles and staggers through such a dark and greedy time when there are people alive with such keen, caring insight. . . If Yahia Lababidi were in charge of a country, I would want to live there.
—Naomi Shihab Nye, poet, songwriter, and novelist
Read more
Lababidi Ink's Store
Filter