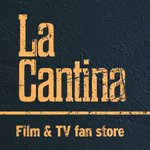 La Cantina
The Cantina is a shop dedicated to geekdom, providing apparel and various products decorated with logos and original designs celebrating our favorite films and TV shows. La Cantina's designer takes special care to replicate all cult logos and create original designs as accurately as possible, in order to provide the most meta experience with our apparel and home products. www.facebook.com/lacantinasociety6 instagram.com/la_cantina_society6 La Cantina joined Society6 on June 15, 2015
More
The Cantina is a shop dedicated to geekdom, providing apparel and various products decorated with logos and original designs celebrating our favorite films and TV shows. La Cantina's designer takes special care to replicate all cult logos and create original designs as accurately as possible, in order to provide the most meta experience with our apparel and home products.
www.facebook.com/lacantinasociety6 instagram.com/la_cantina_society6
La Cantina joined Society6 on June 15, 2015.