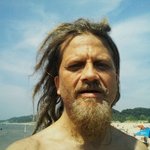 Timothy James Ladner
What is art? It's everything, - art is everything! I paint watercolor, I paint oils, l write poetry, and deep thoughts, I write books (non published yet), I draw, I work with clay, and more. I believe, if I have something to say I need to use a form of art that will get my message across best.
But its not always about me, and what I want, I care about what others want, so I do watercolor portraits for people. I do this because people like to have paintings of their family and loved ones, kids, wife, grandparents, etc. I love to make people happy.
Read more
Timothy James Ladner 's Store
Filter