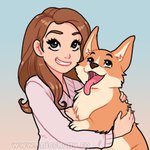 Miss Holly
Hello ! I'm a freelance illustrator based near Paris, France ! I have specialized myself in all things cute and girly, but I like to tackle every kind of stuff in my art. If you like my illustrations, here are a few links to discover more of my work ! My blog : http://www.missholly.fr/ My Tumblr : http://misshollyslair.tumblr.com/ My facebook page : https://www.facebook.com/pages/Tseumpfeuh-en-Libert%C3%A9/215638376482 Cheers ;) Miss Holly joined Society6 on February 2, 2013
More
Hello !
I'm a freelance illustrator based near Paris, France ! I have specialized myself in all things cute and girly, but I like to tackle every kind of stuff in my art. If you like my illustrations, here are a few links to discover more of my work !
My blog : http://www.missholly.fr/
My Tumblr : http://misshollyslair.tumblr.com/
My facebook page : https://www.facebook.com/pages/Tseumpfeuh-en-Libert%C3%A9/215638376482
Cheers ;)
Miss Holly joined Society6 on February 2, 2013.