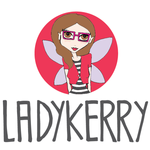 ladykerry
Edinburgh based designer. My work is hand drawn then (in most cases) converted to vector, with some tweaking. I love to explore a lot of things, including abstract patterns, geometrics, fairies, clouds, eyeballs, skulls... ( a well rounded mix?). Feel free to tag your product purchase photos on my instagram page - ladykerrydesign You can read more about my thought processes (and see some of my designs as Society 6 end products) here: http://ladykerry.wordpress.com/ ladykerry joined Society6 on February 20, 2014
More
Edinburgh based designer. My work is hand drawn then (in most cases) converted to vector, with some tweaking. I love to explore a lot of things, including abstract patterns, geometrics, fairies, clouds, eyeballs, skulls... ( a well rounded mix?).
Feel free to tag your product purchase photos on my instagram page - ladykerrydesign
You can read more about my thought processes (and see some of my designs as Society 6 end products) here: http://ladykerry.wordpress.com/
ladykerry joined Society6 on February 20, 2014.