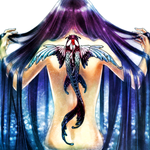 lady madland
♕ q u e e n . o f . m a d n e s s ♔ "this is a gift, it comes with a price, who is the lamb & who is the knife, Mida's is king & he holds me so tight, & turns me to gold on the sunlight" ϟ . a b o u t . h e r . ϟ oo1. — selfish, impatient, sarcastic & psychotic. kind of a sadist. oo2. — writes & fights for something so big she doesn't know she can reach it. oo3. — has a howling beast inside her veins, trying to tear herself apart. oo4. — being herself because everyone else is already taken. lady madland joined Society6 on December 24, 2012
More
♕ q u e e n . o f . m a d n e s s ♔
"this is a gift, it comes with a price, who is the lamb & who is the knife, Mida's is king & he holds me so tight, & turns me to gold on the sunlight"
ϟ . a b o u t . h e r . ϟ
oo1. — selfish, impatient, sarcastic & psychotic. kind of a sadist. oo2. — writes & fights for something so big she doesn't know she can reach it. oo3. — has a howling beast inside her veins, trying to tear herself apart. oo4. — being herself because everyone else is already taken.
lady madland joined Society6 on December 24, 2012.