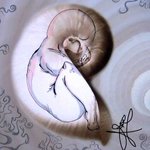 LadyXocArt
Hello my name is Gabriela Rodriguez-Gomez, please call me Gabby. :} My artwork continues to evolve and incorporate both academic training, four years at the University of California Santa Cruz and additional two years at the University of California Riverside, as well as life experiences through travel, family, and friends. As an art historian and artist I engage with culture, mythology, history and contemporary aesthetics that bring to light a mixture of mediums and subject matter. All donations further support my creative endeavors as well as bring me one step closer to achieving my dream of a Ph.D in Chicana/o Studies at UCLA without having to get into massive amounts of debt. Help a fellow student/starving artist out! Mucho Amor, Much Love: GRG LadyXocArt joined Society6 on January 1, 2013
More
Hello my name is Gabriela Rodriguez-Gomez, please call me Gabby. :}
My artwork continues to evolve and incorporate both academic training, four years at the University of California Santa Cruz and additional two years at the University of California Riverside, as well as life experiences through travel, family, and friends. As an art historian and artist I engage with culture, mythology, history and contemporary aesthetics that bring to light a mixture of mediums and subject matter. All donations further support my creative endeavors as well as bring me one step closer to achieving my dream of a Ph.D in Chicana/o Studies at UCLA without having to get into massive amounts of debt. Help a fellow student/starving artist out!
Mucho Amor, Much Love: GRG
LadyXocArt joined Society6 on January 1, 2013.