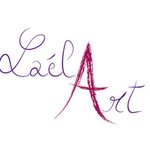 LaélArt
Who is Laéla ? I started painting when I was still a child. Back then, I learnt watercolour technique on my freetime after school, and it quickly became a hobby. I enjoy myself very much, for it is a relaxing and absorbing occupation. When I paint, time flies. I leave this reality and I dive into an absent-minded state. However, it remained a hobby and today painting is not my main occupation. I did not attend any art school, neither did I learn any other technique than watercolour. My approach to acrylic and pastel is therefore completely improvised. I just paint, because I like it, when I feel like it. You will find a sample of my artwork on the Gallery page of this website. What is LaélArt ? LaélArt is an individual enterprise based in Bruges, Belgium, which I created in order to sell and distribute my self-inspired and commissioned artwork in various forms, such as: illustrations for journals, reports and other publications (left pic.), greeting cards (right pic.), office decoration… Visit my website: www.laelart.org Like my Facebook page: https://www.facebook.com/laelart LaélArt joined Society6 on March 25, 2015
More
Who is Laéla ?
I started painting when I was still a child. Back then, I learnt watercolour technique on my freetime after school, and it quickly became a hobby.
I enjoy myself very much, for it is a relaxing and absorbing occupation. When I paint, time flies. I leave this reality and I dive into an absent-minded state.
However, it remained a hobby and today painting is not my main occupation. I did not attend any art school, neither did I learn any other technique than watercolour. My approach to acrylic and pastel is therefore completely improvised.
I just paint, because I like it, when I feel like it.
You will find a sample of my artwork on the Gallery page of this website.
What is LaélArt ?
LaélArt is an individual enterprise based in Bruges, Belgium, which I created in order to sell and distribute my self-inspired and commissioned artwork in various forms, such as: illustrations for journals, reports and other publications (left pic.), greeting cards (right pic.), office decoration…
Visit my website: www.laelart.org Like my Facebook page: https://www.facebook.com/laelart
LaélArt joined Society6 on March 25, 2015.