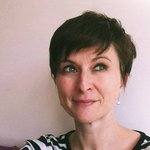 Nancy Isabelle Labrie
Nancy Isabelle Labrie has an impressive creative background from which she carved self-help tools to help others on their path to inner beauty and acceptance. Aside from selling beautiful art pieces, she also offers: • creative coaching, • art workshops and • face and bodypainting services for kids and adults • bodypainting training. Come in and see what she has in store for you :) www.nancyisabellelabrie.com Nancy Isabelle Labrie joined Society6 on September 30, 2013
More
Nancy Isabelle Labrie has an impressive creative background from which she carved self-help tools to help others on their path to inner beauty and acceptance.
Aside from selling beautiful art pieces, she also offers: • creative coaching, • art workshops and • face and bodypainting services for kids and adults • bodypainting training.
Come in and see what she has in store for you :) www.nancyisabellelabrie.com
Nancy Isabelle Labrie joined Society6 on September 30, 2013.