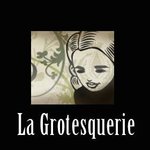 La Grotesquerie
La Grotesquerie is the Midwest studio of Karen Nemes, a cheerful subversive who enjoys digging through junk piles, planting flowers, and teaching babies how to spit. In her spare time, she creates rogue taxidermy, oddities, wet specimens, memento mori, Halloween displays, and scary dolls. As a result, her children aren't afraid of anything.
All animals used by La Grotesquerie are ethically sourced, and are made from reclaimed rodadkill that I have collected, cleaned, and lovingly repurposed into unique characters. No animals were killed for the creation of these pieces.
Like us on Facebook at www.facebook.com/lagrotesquerie Add @lagrotesquerie on Instagram Or visit our website at www.lagrotesquerie.com All content is the property of La Grotesquerie.
©2016 La Grotesquerie. All rights reserved.
Read more
La Grotesquerie's Store
Filter