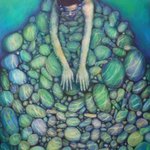 Laini Eckardt
I am a Multimedia Artist living in Sydney. I enjoy using a variety of materials such as oil paint, resin, and alcohol ink to explore my experience and relationship with the beauty of Australia's Rainforests, Rivers, and the Ocean. Here I share my mixed media work and the patterns within them. www.laini-eckardt.com Take a look at my inspiration on Instagram @laini.eckardt and Facebook- Laini Eckardt Laini Eckardt joined Society6 on July 16, 2016
More
I am a Multimedia Artist living in Sydney. I enjoy using a variety of materials such as oil paint, resin, and alcohol ink to explore my experience and relationship with the beauty of Australia's Rainforests, Rivers, and the Ocean.
Here I share my mixed media work and the patterns within them.
www.laini-eckardt.com
Take a look at my inspiration on Instagram @laini.eckardt and Facebook- Laini Eckardt
Laini Eckardt joined Society6 on July 16, 2016.