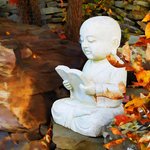 lanjee
Welcome! Thanks for visiting my online shop! Find what you're looking for yourself or great gifts for your friends. You'll find unique merchandise with my art on t-shirts, canvas print,framed print,greeting card,throw pillow,duvet cover,bag,shower curtain,phone case,Apparel and more.... For licensing inquiries, contact Lanjee at http://licensing.pixels.com/profiles/lanjee-chee.html lanjee joined Society6 on May 28, 2015
More
Welcome! Thanks for visiting my online shop! Find what you're looking for yourself or great gifts for your friends. You'll find unique merchandise with my art on t-shirts, canvas print,framed print,greeting card,throw pillow,duvet cover,bag,shower curtain,phone case,Apparel and more....
For licensing inquiries, contact Lanjee at http://licensing.pixels.com/profiles/lanjee-chee.html
lanjee joined Society6 on May 28, 2015.