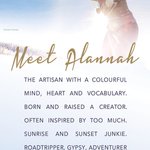 Alannah Jensen Artistry
Hello! Thanks for popping by, my name is Alannah. I am based out of and inspired by the foothills of Alberta, just east of Banff National Park. I love colour and particularly any spectrum Mother Nature produces. I chase sunrises {most days} hunt sunsets, look for moon shine, rainbows and mystical creatures too {often in the form of horses!} I love to be inspired and I love to inspire. I seek beauty and often find it in the most unexpected places. I create what come stop mind, however I am open to custom work that suits your needs. Reach me at info@lannierae.com www.alannahjensen.com - coming soon! Alannah Jensen Artistry joined Society6 on July 29, 2016
More
Hello! Thanks for popping by, my name is Alannah. I am based out of and inspired by the foothills of Alberta, just east of Banff National Park. I love colour and particularly any spectrum Mother Nature produces. I chase sunrises {most days} hunt sunsets, look for moon shine, rainbows and mystical creatures too {often in the form of horses!}
I love to be inspired and I love to inspire. I seek beauty and often find it in the most unexpected places.
I create what come stop mind, however I am open to custom work that suits your needs.
Reach me at info@lannierae.com www.alannahjensen.com - coming soon!
Alannah Jensen Artistry joined Society6 on July 29, 2016.