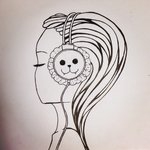 Larkee Beatz
I'm a 15 year old girl, that lives in Denmark. I have always liked to be creative, and i did it in all the ways posseble. My drawing became more serious, around the start of 2014, so im stil pretty new to this. I mostly draw Manga, but once in a while i also draw other things - like pets or landscapes. I can also be found on instagram - where my name is @larkee.beatz, or on DeviantArt with the name LarkeeBeatz Please have a strol around my page - see if there is anything you like, and have a lovely day Larkee Beatz joined Society6 on November 8, 2014
More
I'm a 15 year old girl, that lives in Denmark. I have always liked to be creative, and i did it in all the ways posseble. My drawing became more serious, around the start of 2014, so im stil pretty new to this.
I mostly draw Manga, but once in a while i also draw other things - like pets or landscapes. I can also be found on instagram - where my name is @larkee.beatz, or on DeviantArt with the name LarkeeBeatz
Please have a strol around my page - see if there is anything you like, and have a lovely day
Larkee Beatz joined Society6 on November 8, 2014.