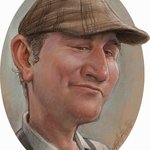 Lars-Erik Robinson
was born in Morristown New Jersey, USA in 1971, and lived in Red Bank NJ until my parents got divorced when I was only 5 years old! My mother Marrianne is Swedish and she decided take me back to Gothenburg, Sweden in 1979, when I was 8 years Old. During my stay in this strange country I started out as a very shy and quite boy, having a real sense of abandonment from my father, and my home country was (a destructive way for a child. During my time in this wonderful country of sweden and the city of gothenburg, I gradually was become a very troubled young teenager. It was hard being raised by my wonderful mother that had to work several jobs just to make us survive! I look back now and I am totally amazed how she made everything work out! During the 80's the hip-hop culture was just starting to spread and I become really sunken into that way of life, which at first started out as a totally positive culture! I used to Breakdance, and also began illegally creating Graffiti art on any thing to get my name out there! I started to lean more towards this type of figurative and Graphic type art world. Going more towards my late teenage period, I have became soo imbedded in this creative world and culture that I was going in the wrong direction with graffiti gangs, exposed to more violence, drinking, drugs, and criminal activities! My turning point was when I was caught by the Swedish government for vandalism, and they wanted me to give up all my friends! My mother noticed she was loosing control of me, soo she decided I should go and live with my father in the Tampabay Florida USA area. Now when I look back it was a great move on her part, but it most have also been one the hardest thing for any mother to do! In the states I then went to two years of high school and started to become more focused on my art, along with other teenage crazyness! While working part time at McDonalds as a cook I met the one I knew had my lifelong soul partners written all over! She was my manager at work and still is to this day, but she is a wonderful wife mother, and best friend ever! After graduating Seminole high school in 1990, I was going off to College at Ringling College of Art & Design and she came up to visit all the time! Finally we got a a place of our own and I continued to study Illustration and graduating with honors from Ringling College of Art & Design in 1994 with my B.F.A "Bachelors of Fine Arts degree". We moved back to Largo florida and got married almost right away! While building my Freelance career as an Artist, and working in the hospitality industry as a chef, I also became gradually more and more involved in the Caricature business. This is where I totally studied and learned the way to merge my personality, creativity, sales techniques into a entertaining art show. This started the beginning of my Art-Tainment show (Live Caricatures) where I continued to provide Illustration studio work for publications, Invitations, gifts, and other advertising needs . I also have built up a clientele such as Anhiser-Busch, Belleaire Country Club, Cities such as St Petersburg, Clearwater, Seminole, Largo and Plant city, Verizone, HCA Hospitals, St Pete times and many more. I am not only providing myself for live and other creative Illustration/Graphic services, but I can also service other live Caricature artist, face painting, balloons, magic, one-man shows, dj's and live bands needed to make the client successful! I belong to the I.S.C.A "International Society of Caricature Artist", YouTube which has about 110 different how-to videos online, you can also follow me and my work on several social networking sites, and my websites. The biggest investment is my plan is to go back to get my Graduates degree from The Academy of Art University in the summer. In the mean while I love spreading all my free time with my wonderful wife Debbie, son Sean of 11 years old, and our two goldens Jack & Jill. Grace Christian Fellowship is my church where I worship god, and I can't thank my god enough for sacrifice of his only son my Savior Jesus christ! I am so thankful for god giving me the talent he has bestowed upon me, and I try to spread his grace the world with his vision thru my eyes and soul! I am now an Illustrator, Caricaturist, Fine Artist, Muralist, Graphic Designer, Entertainment Agent, Culinary Chef. Family is #1 and I Love Jesus Christ and the fellowship of my church at Grace Christian Fellowship! I am a Caring, hard working and goal oriented! Lars-Erik Robinson joined Society6 on August 15, 2013
More
was born in Morristown New Jersey, USA in 1971, and lived in Red Bank NJ until my parents got divorced when I was only 5 years old! My mother Marrianne is Swedish and she decided take me back to Gothenburg, Sweden in 1979, when I was 8 years Old. During my stay in this strange country I started out as a very shy and quite boy, having a real sense of abandonment from my father, and my home country was (a destructive way for a child. During my time in this wonderful country of sweden and the city of gothenburg, I gradually was become a very troubled young teenager. It was hard being raised by my wonderful mother that had to work several jobs just to make us survive! I look back now and I am totally amazed how she made everything work out! During the 80's the hip-hop culture was just starting to spread and I become really sunken into that way of life, which at first started out as a totally positive culture! I used to Breakdance, and also began illegally creating Graffiti art on any thing to get my name out there! I started to lean more towards this type of figurative and Graphic type art world. Going more towards my late teenage period, I have became soo imbedded in this creative world and culture that I was going in the wrong direction with graffiti gangs, exposed to more violence, drinking, drugs, and criminal activities! My turning point was when I was caught by the Swedish government for vandalism, and they wanted me to give up all my friends! My mother noticed she was loosing control of me, soo she decided I should go and live with my father in the Tampabay Florida USA area. Now when I look back it was a great move on her part, but it most have also been one the hardest thing for any mother to do! In the states I then went to two years of high school and started to become more focused on my art, along with other teenage crazyness! While working part time at McDonalds as a cook I met the one I knew had my lifelong soul partners written all over! She was my manager at work and still is to this day, but she is a wonderful wife mother, and best friend ever! After graduating Seminole high school in 1990, I was going off to College at Ringling College of Art & Design and she came up to visit all the time! Finally we got a a place of our own and I continued to study Illustration and graduating with honors from Ringling College of Art & Design in 1994 with my B.F.A "Bachelors of Fine Arts degree". We moved back to Largo florida and got married almost right away! While building my Freelance career as an Artist, and working in the hospitality industry as a chef, I also became gradually more and more involved in the Caricature business. This is where I totally studied and learned the way to merge my personality, creativity, sales techniques into a entertaining art show. This started the beginning of my Art-Tainment show (Live Caricatures) where I continued to provide Illustration studio work for publications, Invitations, gifts, and other advertising needs . I also have built up a clientele such as Anhiser-Busch, Belleaire Country Club, Cities such as St Petersburg, Clearwater, Seminole, Largo and Plant city, Verizone, HCA Hospitals, St Pete times and many more. I am not only providing myself for live and other creative Illustration/Graphic services, but I can also service other live Caricature artist, face painting, balloons, magic, one-man shows, dj's and live bands needed to make the client successful! I belong to the I.S.C.A "International Society of Caricature Artist", YouTube which has about 110 different how-to videos online, you can also follow me and my work on several social networking sites, and my websites. The biggest investment is my plan is to go back to get my Graduates degree from The Academy of Art University in the summer. In the mean while I love spreading all my free time with my wonderful wife Debbie, son Sean of 11 years old, and our two goldens Jack & Jill. Grace Christian Fellowship is my church where I worship god, and I can't thank my god enough for sacrifice of his only son my Savior Jesus christ! I am so thankful for god giving me the talent he has bestowed upon me, and I try to spread his grace the world with his vision thru my eyes and soul!
I am now an Illustrator, Caricaturist, Fine Artist, Muralist, Graphic Designer, Entertainment Agent, Culinary Chef. Family is #1 and I Love Jesus Christ and the fellowship of my church at Grace Christian Fellowship! I am a Caring, hard working and goal oriented!
Lars-Erik Robinson joined Society6 on August 15, 2013.