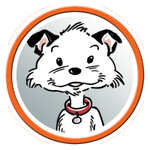 Little Hunterman
I'm Little Hunterman (www.littlehunterman.com), a Parson Jack Russell terrier cartoon doggie.
Humans think I worry too much and eat too little. To that, I can only reply that I would have less to worry and more to eat if they shared their croissants with me instead of trying to give me dog food. Just being sensible, right?
My very best friend in the world is Flynn, my rubber duck. A sad little guy who loves to read romance novels when he thinks that no one is watching and is still trying to learn how to fly.
As to myself, I love rat-chases the bestest, and bath monster the least. Everything in between needs to be inspected before taking any chances. Maybe you could do that for me? I'd love you forever if you did ...
Read more
Little Hunterman's Store
Filter