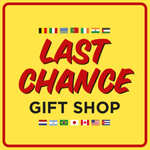 Last Chance Gift Shop
LastChanceGiftShop is an online gift store where you will find itens from the top travel destinations worldwide. The perfect choice for those who want to buy for themselves or give away a gift from a place they love, for those that forgot to buy souvenirs on their last trip, for those who couldn't bring a gift for the family and even for those who want to pretend they spent the holidays in one of these places. Beautifully designed t-shirts, tank tops, pillows, tote bags, wall clocks, mugs, rugs, towels, laptop sleeves and laptop skins delivered directly to your home. Last Chance Gift Shop joined Society6 on October 24, 2016
More
LastChanceGiftShop is an online gift store where you will find itens from the top travel destinations worldwide. The perfect choice for those who want to buy for themselves or give away a gift from a place they love, for those that forgot to buy souvenirs on their last trip, for those who couldn't bring a gift for the family and even for those who want to pretend they spent the holidays in one of these places.
Beautifully designed t-shirts, tank tops, pillows, tote bags, wall clocks, mugs, rugs, towels, laptop sleeves and laptop skins delivered directly to your home.
Last Chance Gift Shop joined Society6 on October 24, 2016.