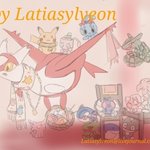 Latiasylveon
I am a miniature artist who has loved Pokemon for decades! I love making art as well, and I love to depict scenes, landscapes and interaction between the characters. I love soft pastels to bright palettes, gold accents and stark contrasting hues. From blurry watercolors, to sharp realism, to cute art and impressionism. That said, I love to work in any style, I am always looking to improve my art skills. Thank you for reading! And I hope you like my art, too :) Latiasylveon joined Society6 on November 10, 2015
More
I am a miniature artist who has loved Pokemon for decades! I love making art as well, and I love to depict scenes, landscapes and interaction between the characters.
I love soft pastels to bright palettes, gold accents and stark contrasting hues. From blurry watercolors, to sharp realism, to cute art and impressionism.
That said, I love to work in any style, I am always looking to improve my art skills.
Thank you for reading! And I hope you like my art, too :)
Latiasylveon joined Society6 on November 10, 2015.
Latiasylveon's Store
36 results
Filter