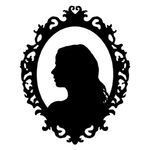 Laura Barrett
Laura Barrett is a freelance illustrator based in London. Since graduating from Camberwell College of Arts in 2007 she has been creating intricate silhouette illustrations for a variety of clients. Her work has been commissioned within the fields of publishing, editorial, packaging, advertising and animation. Influenced by the darker side of folk and fairy tales, Laura's work explores the use of narrative through the medium of silhouette. Her illustrations are created digitally in Illustrator using a graphics tablet, yet her work retains a traditional, handcrafted quality. Laura's work has been featured in Digital Arts magazine, MacUser and The Mix Future Interiors. Laura's clients include: Anatomy Wines, Brighton Festival, British Heart Foundation, Candy & Candy, A Girl for All Time, The Guardian, Heidelberg, Inside Out Magazine, KMS Team, Open Fundraising, Potion Pictures, Taschen, Wabe Entertainment. Laura is available for commissions, contact her if you would like more information or if you just want to say hello. www.laurabarrett.co.uk info@laurabarrett.co.uk Laura Barrett joined Society6 on August 23, 2012
More
Laura Barrett is a freelance illustrator based in London. Since graduating from Camberwell College of Arts in 2007 she has been creating intricate silhouette illustrations for a variety of clients. Her work has been commissioned within the fields of publishing, editorial, packaging, advertising and animation.
Influenced by the darker side of folk and fairy tales, Laura's work explores the use of narrative through the medium of silhouette. Her illustrations are created digitally in Illustrator using a graphics tablet, yet her work retains a traditional, handcrafted quality.
Laura's work has been featured in Digital Arts magazine, MacUser and The Mix Future Interiors.
Laura's clients include: Anatomy Wines, Brighton Festival, British Heart Foundation, Candy & Candy, A Girl for All Time, The Guardian, Heidelberg, Inside Out Magazine, KMS Team, Open Fundraising, Potion Pictures, Taschen, Wabe Entertainment.
Laura is available for commissions, contact her if you would like more information or if you just want to say hello.
www.laurabarrett.co.uk info@laurabarrett.co.uk
Laura Barrett joined Society6 on August 23, 2012.