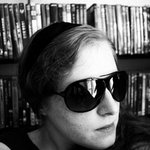 Laura Sanchez
Well, I live in Tucson, Arizona. I'm originally from Arlington, VA (DC). I love photography and art. I especially love digital art and new technology like 3-D imaging, Satellite Imaging, Fractals, crowdsourcing, iphotos, photoshopped images, science images, nanophotos etc. I work at a nonprofit and very concerned about poverty, food security, economics, access to technology, justice, liberty, freedom, politics and whatnot. Actually, I just like making stuff - doing stuff to make life better XD Please check out my website www.lauraEsanchez.com Laura Sanchez joined Society6 on August 25, 2011
More
Well, I live in Tucson, Arizona. I'm originally from Arlington, VA (DC). I love photography and art. I especially love digital art and new technology like 3-D imaging, Satellite Imaging, Fractals, crowdsourcing, iphotos, photoshopped images, science images, nanophotos etc.
I work at a nonprofit and very concerned about poverty, food security, economics, access to technology, justice, liberty, freedom, politics and whatnot.
Actually, I just like making stuff - doing stuff to make life better XD
Please check out my website
www.lauraEsanchez.com
Laura Sanchez joined Society6 on August 25, 2011.