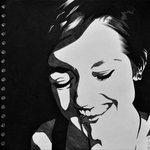 Laura Finke Illustration
Hi there - I am Laura Finke, a freelance illustrator originally from Germany. By using pens and watercolor or acrylic I can create a mix of organic patterns and colorful areas. I also find Oriental art an inspiration. Furthermore I find inspiration in anatomy, science, flora & fauna and puns. Having a passion for detail I often visually describe various states of mind. Laura Finke Illustration joined Society6 on August 31, 2014
More
Hi there - I am Laura Finke, a freelance illustrator originally from Germany.
By using pens and watercolor or acrylic I can create a mix of organic patterns and colorful areas. I also find Oriental art an inspiration. Furthermore I find inspiration in anatomy, science, flora & fauna and puns. Having a passion for detail I often visually describe various states of mind.
Laura Finke Illustration joined Society6 on August 31, 2014.