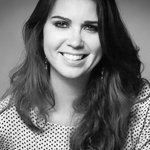 Laura Hol Art
Laura Hol is an enthusiastic up and coming young artist. Her bold, bright style is both modern and timeless and adds a 'glow' to any room. The vibrant colours and strong lines used in her paintings create an energetic intensity which is both uplifting and positive. Everything is about seeing things slightly differently. Laura Hol Art joined Society6 on February 7, 2014
More
Laura Hol is an enthusiastic up and coming young artist. Her bold, bright style is both modern and timeless and adds a 'glow' to any room. The vibrant colours and strong lines used in her paintings create an energetic intensity which is both uplifting and positive.
Everything is about seeing things slightly differently.
Laura Hol Art joined Society6 on February 7, 2014.