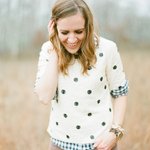 lauraivanova
I'm a film photographer who craves travel and adventure. My background is in design and architecture, and in the mysterious way that life often works, I eventually found myself working as a full time photographer. I consider myself incredibly lucky to do what I love every day. Not only has my work brought me to far off destinations, but it also allows me flexibility to wander on my own accord. I hope my photos inspire a bit of wanderlust in your own life. You can find my travel work online: www.pieandthesky.com | @pieandthesky And, my wedding work: www.lauraivanova.com | @lauraivanova lauraivanova joined Society6 on February 22, 2017
More
I'm a film photographer who craves travel and adventure. My background is in design and architecture, and in the mysterious way that life often works, I eventually found myself working as a full time photographer. I consider myself incredibly lucky to do what I love every day. Not only has my work brought me to far off destinations, but it also allows me flexibility to wander on my own accord. I hope my photos inspire a bit of wanderlust in your own life.
You can find my travel work online: www.pieandthesky.com | @pieandthesky
And, my wedding work: www.lauraivanova.com | @lauraivanova
lauraivanova joined Society6 on February 22, 2017.
lauraivanova's Store
48 results
Filter