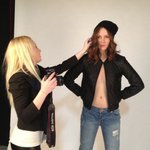 Laura Jane Smith Photographer
Laura Jane is a 21 year old photographer from Adelaide, South Australia. She has completed her Advanced Diploma in Commercial Photography at TAFE SA, and since graduating has been working on a freelance basis, quickly gathering many clients. She always puts everything she has into her work, whether it be commercial, fashion, events, portraits or a personal art project. This Society6 store is where she is able to sell her more creative, artistic and illustrative works, perfect for home artwork. "Always remember to capture everything" Contact her for bookings or enquiries at: laurajanephotography@hotmail.com Laura Jane Smith Photographer joined Society6 on August 1, 2013
More
Laura Jane is a 21 year old photographer from Adelaide, South Australia. She has completed her Advanced Diploma in Commercial Photography at TAFE SA, and since graduating has been working on a freelance basis, quickly gathering many clients.
She always puts everything she has into her work, whether it be commercial, fashion, events, portraits or a personal art project.
This Society6 store is where she is able to sell her more creative, artistic and illustrative works, perfect for home artwork.
"Always remember to capture everything"
Contact her for bookings or enquiries at: laurajanephotography@hotmail.com
Laura Jane Smith Photographer joined Society6 on August 1, 2013.
Laura Jane Smith Photographer 's Store
45 results
Filter