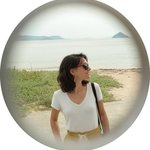 Laura M. Giurge, PhD
Behavioral scientist and creative thinker, I love to discover the beauty of the world around us. Driven by curiosity and a thirst for exploration, I strive to capture beautiful moments, places, and people across the world. I hope my work brings some joy to your day or your living room. All work is © Laura M. Giurge and may not be reproduced without permission. To see more of my work, you can visit my website https://lauramgiurge.com or get in touch at laura.giurge@gmail.com Laura M. Giurge, PhD joined Society6 on September 25, 2014
More
Behavioral scientist and creative thinker, I love to discover the beauty of the world around us.
Driven by curiosity and a thirst for exploration, I strive to capture beautiful moments, places, and people across the world. I hope my work brings some joy to your day or your living room.
All work is © Laura M. Giurge and may not be reproduced without permission. To see more of my work, you can visit my website https://lauramgiurge.com or get in touch at laura.giurge@gmail.com
Laura M. Giurge, PhD joined Society6 on September 25, 2014.
Laura M. Giurge, PhD's Store
108 results
Filter