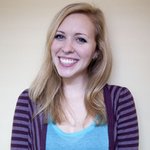 Laura Teed
www.laurateed.com Laura Teed is not your typical artist. A colourblind (or as she prefers "colour-confused"), fixie-riding, communications masters student, one may be surprised to know that Laura has always been deeply involved in the Fine Arts. Prior to earning her Fine Arts – Visual Art Honours degree at York University in Toronto, Laura was painting commissioned portraits while performing and teaching dance. Laura immersed herself in all visual mediums at her disposal, design, dance and music classes, histories (art, world, anthropologies), as well as science (psychology and anatomy) at York. Laura's interest in the intersection of science, religion and the environment began to take hold through international travel and cultural exposure. Her art's subject matter (intensive landscapes of man and nature – like the work of Caspar Friedrich) and artistic style (colour use and line similar to Lawren Harris) reflected this shift. Her art has been displayed in several solo and group exhibitions around Toronto and the Maritimes. A personal highlight of her artistic career was her joint exhibition with her dear friend and celebrated portraitist, Joe Simpson, in a show aptly titled, "Colourblind." Laura learned the business of art and it became obvious that success required networking and public relations. Therefore, she completed her Post-Graduate PR Certificate at Humber College and was hired, prior to graduating, at Hill & Knowlton- Toronto in the Marketing Communications sector. Laura currently attends Mount Saint Vincent University in Halifax, completing her Masters in Arts - Communication and going on to begin her PhD in Communications, while continuing to paint - challenging her both creatively and mentally. Laura Teed joined Society6 on November 5, 2013
More
www.laurateed.com
Laura Teed is not your typical artist. A colourblind (or as she prefers "colour-confused"), fixie-riding, communications masters student, one may be surprised to know that Laura has always been deeply involved in the Fine Arts.
Prior to earning her Fine Arts – Visual Art Honours degree at York University in Toronto, Laura was painting commissioned portraits while performing and teaching dance. Laura immersed herself in all visual mediums at her disposal, design, dance and music classes, histories (art, world, anthropologies), as well as science (psychology and anatomy) at York.
Laura's interest in the intersection of science, religion and the environment began to take hold through international travel and cultural exposure. Her art's subject matter (intensive landscapes of man and nature – like the work of Caspar Friedrich) and artistic style (colour use and line similar to Lawren Harris) reflected this shift. Her art has been displayed in several solo and group exhibitions around Toronto and the Maritimes. A personal highlight of her artistic career was her joint exhibition with her dear friend and celebrated portraitist, Joe Simpson, in a show aptly titled, "Colourblind."
Laura learned the business of art and it became obvious that success required networking and public relations. Therefore, she completed her Post-Graduate PR Certificate at Humber College and was hired, prior to graduating, at Hill & Knowlton- Toronto in the Marketing Communications sector. Laura currently attends Mount Saint Vincent University in Halifax, completing her Masters in Arts - Communication and going on to begin her PhD in Communications, while continuing to paint - challenging her both creatively and mentally.
Laura Teed joined Society6 on November 5, 2013.
Laura Teed's Store
152 results
Filter