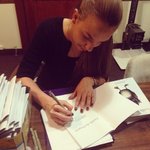 Lauren Crest Illustration
I work to provide artistic direction and to visually illustrate creative stories, ideas, and concepts; Making it possible for creative visions to be experienced, explored, and enjoyed more deeply by viewers. With each illustration I work to further enhance and bring to life the creative vision presented to me and to cause the viewer to, for a moment, forget about realty as we know it and instead believe in an alternative form of truth (or reality) presented to them. Due to years of working with a wide range of artistic mediums, I'm able to meet many visual and technical requirements necessary to enhance the collective workflow, and to complete projects quickly and efficiently. By not committing to one particular artistic medium, I am free to work in a variety of creative channels that will best translate complex, abstract, or personal artistic visions; without losing the recognizable visual signature of my work. For more information please visit my website at http://www.laurencrestillustration.com/. Lauren Crest Illustration joined Society6 on June 1, 2015
More
I work to provide artistic direction and to visually illustrate creative stories, ideas, and concepts; Making it possible for creative visions to be experienced, explored, and enjoyed more deeply by viewers. With each illustration I work to further enhance and bring to life the creative vision presented to me and to cause the viewer to, for a moment, forget about realty as we know it and instead believe in an alternative form of truth (or reality) presented to them.
Due to years of working with a wide range of artistic mediums, I'm able to meet many visual and technical requirements necessary to enhance the collective workflow, and to complete projects quickly and efficiently. By not committing to one particular artistic medium, I am free to work in a variety of creative channels that will best translate complex, abstract, or personal artistic visions; without losing the recognizable visual signature of my work.
For more information please visit my website at http://www.laurencrestillustration.com/.
Lauren Crest Illustration joined Society6 on June 1, 2015.