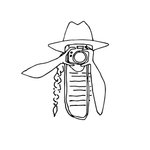 laurenpurves
I am a candid portrait and landscape photographer currently living between LA and Toronto. A camera has served as my third eye for as long as I can remember. I've worked: For a handful of Canadian urban design magazines. Feel free to get in touch for commissions + collaborations. laurenpurves joined Society6 on August 2, 2013
More
I am a candid portrait and landscape photographer currently living between LA and Toronto.
A camera has served as my third eye for as long as I can remember.
I've worked:
For a handful of Canadian urban design magazines.
Feel free to get in touch for commissions + collaborations.
laurenpurves joined Society6 on August 2, 2013.
laurenpurves's Store
65 results
Filter