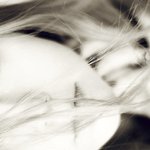 Lauren Wuornos
I have to look at the world around me in order to understand myself. I live within the perspective that we are only tourists. Our lives are only a fraction of the time that has passed. The concept of time itself really interests me. Because of this, I feel I have a loyal duty to humanity. I aspire to collaborate within the creative workforce because to change anything at all, innovation is absolutely key. I am also a traveler at heart and an adventurer into the unknown. "We do not grow absolutely, chronologically. We grow sometimes in one dimension, and not in another; unevenly. We grow partially. We are relative. We are mature in one realm, childish in another. The past, present, and future mingle and pull us backward, forward, or fix us in the present. We are made up of layers, cells, constellations." Anaïs Nin For more artwork, check out http://laurenwuornos.com Lauren Wuornos joined Society6 on October 25, 2011
More
I have to look at the world around me in order to understand myself. I live within the perspective that we are only tourists. Our lives are only a fraction of the time that has passed. The concept of time itself really interests me. Because of this, I feel I have a loyal duty to humanity. I aspire to collaborate within the creative workforce because to change anything at all, innovation is absolutely key. I am also a traveler at heart and an adventurer into the unknown.
"We do not grow absolutely, chronologically. We grow sometimes in one dimension, and not in another; unevenly. We grow partially. We are relative. We are mature in one realm, childish in another. The past, present, and future mingle and pull us backward, forward, or fix us in the present. We are made up of layers, cells, constellations." Anaïs Nin
For more artwork, check out http://laurenwuornos.com
Lauren Wuornos joined Society6 on October 25, 2011.
Lauren Wuornos's Store
12 results
Filter