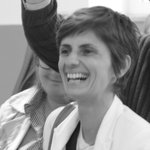 lllg
"Lazy Little Lucky Girl" is the perfect set of adjectives to define me, but more importantly, are the initials of my three amazing children and my husband.
My history starts on 1973. In the 80's I learnt the importance of friendship and art, at Italian Arts High School, in Monza (Milan). In the 90's I discovered an international world, through a master's degree on Industrial Design at the Scuola Politecnica of Design, in Milan. In the same time I lived years of independence and survival, taking a degree at Architecture University at Politecnico of Milan. Next I started my first professional experience through stages with architects and designers. On 1998 I started working with Stefano Giovannoni, learning 3D, production, perseverance, passion for details and for this job, becoming assistant to him for important projects with companies like Alessi, Magis, Flos and more other. On 2001 I had a beautiful stay in London: it's the experience at Norman Foster and Partners Studio as Senior Designer. For the next two years I was lost in the US world of Motorola Design Center, in Milan. Since 2005 I started working as a freelance, working for passion and being the mom of three irreplaceable children.
I hope I have intrigued you and hope to have your support to become less Lazy and Little, but more of a Lucky Girl!
Read more