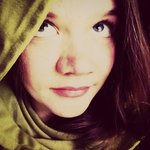 Leah K. Oxendine
Leah K. Oxendine is a quirky, 18 year old dreamer with a passion for pointing others to Christ. She adores writing and scheming up new characters and plots. Art has always been a huge aspect of her life, ever since she could first pick up a crayon as a young child. Now she aspires to use her God-given artistic skills as a means to help raise money for her naturopathy studies., and also help people gain strong, distinguished visuals on their book characters. She's obsessed with tea and music-making, and is also something of a health-nut. Visit her personal blog at www.apassionatafortheking.blogspot.com Leah K. Oxendine joined Society6 on November 15, 2014
More
Leah K. Oxendine is a quirky, 18 year old dreamer with a passion for pointing others to Christ. She adores writing and scheming up new characters and plots. Art has always been a huge aspect of her life, ever since she could first pick up a crayon as a young child. Now she aspires to use her God-given artistic skills as a means to help raise money for her naturopathy studies., and also help people gain strong, distinguished visuals on their book characters. She's obsessed with tea and music-making, and is also something of a health-nut.
Visit her personal blog at www.apassionatafortheking.blogspot.com
Leah K. Oxendine joined Society6 on November 15, 2014.
Leah K. Oxendine's Store
31 results
Filter