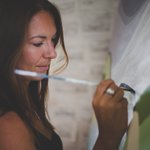 Leanne Spanza
www.leannespanza.com Hello! I create fun, colourful paintings inspired from time spent exploring in the mountains and long road trips. Check out my website for more about me and my paintings. I am a self taught acrylic landscape painter originally from North Vancouver and have been living in the Okanagan Valley in British Columbia, Canada for eight years with my husband Carl and our two kids Joni and Jack. I previously worked in the construction and engineering industry for ten years when in September 2010 and while on maternity leave with Joni, I entered into Artwalk (Lake Country). Artwalk is the largest juried art show in the Okanagan and it initiated my professional career as an artist. I worked at both my art career and engineering career until August 2012 when I dove into being a full time artist while spending my days with my kids. Since Artwalk 2010, my art has been featured in public and private galleries, wineries, tourist centres, retail shops, businesses and featured on Therapy Vineyards Artist Series wine label. In July 2011 I was selected along with five other artists from BC to participate in Parks Canada's Art in the Park Program. I have had two solo exhibitions at public galleries, one at the Gibsons Public Art Gallery in 2012 and the other at the Port Alberni Art Gallery in 2013. In 2015 I was commissioned by the University of British Columbia Southern Medical Program to create an original that now hangs in the building but to also create prints from that painting that were given as graduation gifts to each graduating doctor. My prints have been given to each graduating doctor in 2016 and 2017 as well. In 2016 I was chosen again to participate in the Art in the Park program, this time celebrating Canada's 150th birthday. I spent 5 days with 11 other selected artists from BC and Alberta in Glacier National Park. The artwork created is touring parts of the country this year. My original art has been collected across Canada, the United States and Europe and I love creating custom pieces of art for my commission clients. Leanne Spanza joined Society6 on May 14, 2018
More
www.leannespanza.com Hello! I create fun, colourful paintings inspired from time spent exploring in the mountains and long road trips. Check out my website for more about me and my paintings.
I am a self taught acrylic landscape painter originally from North Vancouver and have been living in the Okanagan Valley in British Columbia, Canada for eight years with my husband Carl and our two kids Joni and Jack. I previously worked in the construction and engineering industry for ten years when in September 2010 and while on maternity leave with Joni, I entered into Artwalk (Lake Country). Artwalk is the largest juried art show in the Okanagan and it initiated my professional career as an artist. I worked at both my art career and engineering career until August 2012 when I dove into being a full time artist while spending my days with my kids.
Since Artwalk 2010, my art has been featured in public and private galleries, wineries, tourist centres, retail shops, businesses and featured on Therapy Vineyards Artist Series wine label. In July 2011 I was selected along with five other artists from BC to participate in Parks Canada's Art in the Park Program. I have had two solo exhibitions at public galleries, one at the Gibsons Public Art Gallery in 2012 and the other at the Port Alberni Art Gallery in 2013. In 2015 I was commissioned by the University of British Columbia Southern Medical Program to create an original that now hangs in the building but to also create prints from that painting that were given as graduation gifts to each graduating doctor. My prints have been given to each graduating doctor in 2016 and 2017 as well. In 2016 I was chosen again to participate in the Art in the Park program, this time celebrating Canada's 150th birthday. I spent 5 days with 11 other selected artists from BC and Alberta in Glacier National Park. The artwork created is touring parts of the country this year.
My original art has been collected across Canada, the United States and Europe and I love creating custom pieces of art for my commission clients.
Leanne Spanza joined Society6 on May 14, 2018.
Bedding by Leanne Spanza
14 results
Filter
Department

Dept

Pillows & Bedding