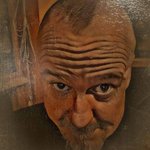 LedFreddie
Led Freddie has trained in the lost art of Navajo Sand Casting Sterling Silver as well as studies ancient Organic Casting techniques dating from 350 -300 B.C. Samaria. Led Freddies paintings originate in the Obscure, reflect hope and optimism in bright colours and alternating styles. The Master of Obscura, Led Freddie invites you to visit his website at www.LedFreddie.com Welcome to the Obscura. LedFreddie joined Society6 on December 11, 2017
More
Led Freddie has trained in the lost art of Navajo Sand Casting Sterling Silver as well as studies ancient Organic Casting techniques dating from 350 -300 B.C. Samaria.
Led Freddies paintings originate in the Obscure, reflect hope and optimism in bright colours and alternating styles. The Master of Obscura, Led Freddie invites you to visit his website at www.LedFreddie.com Welcome to the Obscura.
LedFreddie joined Society6 on December 11, 2017.
Tabletop by LedFreddie
85 results
Filter