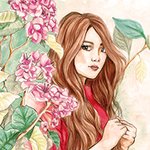 Megan Haering
I am a freelance artist based in NSW, Australia. I have a passion for both illustration and photography, and enjoy experimenting with many different media, both digital and traditional. My works are directly influenced by pop culture, where my interests lie, including gaming, television and K-pop. Megan Haering joined Society6 on June 23, 2014
More
I am a freelance artist based in NSW, Australia. I have a passion for both illustration and photography, and enjoy experimenting with many different media, both digital and traditional.
My works are directly influenced by pop culture, where my interests lie, including gaming, television and K-pop.
Megan Haering joined Society6 on June 23, 2014.
Megan Haering's Store
18 results
Filter