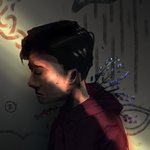 leftclot
Hello! My name is andro, a 20 y/old aspiring artist from Singapore! Here i post simple illustrations and a couple of photographs of mine since i first began in 2014. Stay tuned for more to come as i get better in the days to come. Thanks for stopping by (: - here's some social stuff to distract you- tumblr | androkoshy youtube | leftclot instagram | _.ndro leftclot joined Society6 on March 22, 2015
More
Hello! My name is andro, a 20 y/old aspiring artist from Singapore!
Here i post simple illustrations and a couple of photographs of mine since i first began in 2014. Stay tuned for more to come as i get better in the days to come.
Thanks for stopping by (:
here's some social stuff to distract you- tumblr | androkoshy youtube | leftclot instagram | _.ndro
leftclot joined Society6 on March 22, 2015.