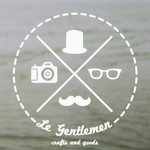 Le Gentlemen
The story of Le Gentlemen begin when two friends with huge interest in photography and longing to do something artsy together. Noticing the lack of variety on Kuala Lumpur's postcards, a project in motion has begun to create photographs of Kuala Lumpur scenes. They produced a photobook called Walks of Life and begin to sell postcards and photobooks at art fairs. Le Gentlemen also produces quirky, hipster postcards that bound to catch every hipster's attention. Its latest collection, Positive Hipster Wisdom For The Benefit Of The Lonely, focuses on the positive quotes for betterment of lonely hipsters. With whimsical, kaleidoscopic pictures, it is just interesting to look at and probably one of its kind in Malaysia. Postcards range from RM2.50 per card to RM25 per set. Top-selling postcard include "To Die By Your Side Is Such A Heavenly Way To Die", "Have A Little Luck, Its On Me" "Falling In Love Should Be Like Polaroids" and "Happy Pills". Le Gentlemen is the brainchild of Kyle Lai and Shet Jet Neo. Visit their facebook at https://www.facebook.com/thelegentlemen Le Gentlemen joined Society6 on November 5, 2013
More
The story of Le Gentlemen begin when two friends with huge interest in photography and longing to do something artsy together. Noticing the lack of variety on Kuala Lumpur's postcards, a project in motion has begun to create photographs of Kuala Lumpur scenes. They produced a photobook called Walks of Life and begin to sell postcards and photobooks at art fairs.
Le Gentlemen also produces quirky, hipster postcards that bound to catch every hipster's attention. Its latest collection, Positive Hipster Wisdom For The Benefit Of The Lonely, focuses on the positive quotes for betterment of lonely hipsters. With whimsical, kaleidoscopic pictures, it is just interesting to look at and probably one of its kind in Malaysia.
Postcards range from RM2.50 per card to RM25 per set. Top-selling postcard include "To Die By Your Side Is Such A Heavenly Way To Die", "Have A Little Luck, Its On Me" "Falling In Love Should Be Like Polaroids" and "Happy Pills".
Le Gentlemen is the brainchild of Kyle Lai and Shet Jet Neo. Visit their facebook at https://www.facebook.com/thelegentlemen
Le Gentlemen joined Society6 on November 5, 2013.