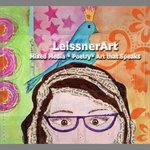 LeissnerArt
The mission of LeissnerArt is to use art to share the gospel, humor to lighten the mood, and love to build a caring community of kindred spirits to cooperatively inspire. Born and raised in West Texas, Lori Leissner has not traveled too far from her home state but has been around the block. From summers hoeing in the cotton fields and hauling grain for her farmer dad to the single school year struggling as a 7th grade English teacher, she uses her life experience to feed her love of mixed media art. Lori's work is inspirational (often based literally and figuratively on pages from the Bible) and celebrates all God's creations (sometimes doing silly things). Lori lives in West Central Texas with her husband, their kids, dogs, cats, and sundry other critters. She loves Jesus, basketball, irony, "I Love Lucy", pretty paper, Mod Podge, orange kitties, birds, trees, key limes, a good pun, one liners, silly poetry and some other stuff she talks about on her blog at www.leissnerart.com. LeissnerArt joined Society6 on February 23, 2013
More
The mission of LeissnerArt is to use art to share the gospel, humor to lighten the mood, and love to build a caring community of kindred spirits to cooperatively inspire.
Born and raised in West Texas, Lori Leissner has not traveled too far from her home state but has been around the block. From summers hoeing in the cotton fields and hauling grain for her farmer dad to the single school year struggling as a 7th grade English teacher, she uses her life experience to feed her love of mixed media art.
Lori's work is inspirational (often based literally and figuratively on pages from the Bible) and celebrates all God's creations (sometimes doing silly things).
Lori lives in West Central Texas with her husband, their kids, dogs, cats, and sundry other critters. She loves Jesus, basketball, irony, "I Love Lucy", pretty paper, Mod Podge, orange kitties, birds, trees, key limes, a good pun, one liners, silly poetry and some other stuff she talks about on her blog at www.leissnerart.com.
LeissnerArt joined Society6 on February 23, 2013.