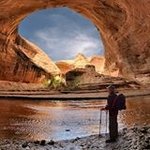 Leland D Howard
Clients world wide have appreciated and purchased Howard's photographic work for usage rights and office or home décor. Hospitals display his work to ease tension and raise the spirits of patients in a place that could otherwise appear cold or foreboding. Businesses use his beautiful images of the natural world to create a more calming, cooperative and productive environment. Individuals love the soothing atmosphere created in a home with Howard's fine art nature photography on the walls. His background, talent, passion and willingness to explore rarely visited wild places of the American west all combine in the creation of his insightful and meaningful images. Howard is completely self taught and is now sought after to teach. Reproductions of his work number in the millions and countless lives have been improved from the positive influence of his work. Howard's many credits include diverse publications and companies such as The National Geographic Society, Warner Bros. MGM, Hallmark, AT&T, Sierra Press, Browntrout, Audubon, Healthy Planet, PhotoGraphic, Beautiful America Publications, Angel Graphics, Portal Publications, Outside, Blue Sky Publishing, Reiman Publications, Smith Western, Sierra Club, Great Mountain West, Western Image, Westcliffe Publishers, Northwest Publications and hundreds more. To navigate Leland Howard's photographic art in themed gallery format for wall decor, prints and wall art please visit www.finestnaturephotography.com. Leland D Howard joined Society6 on September 29, 2014
More
Clients world wide have appreciated and purchased Howard's photographic work for usage rights and office or home décor. Hospitals display his work to ease tension and raise the spirits of patients in a place that could otherwise appear cold or foreboding. Businesses use his beautiful images of the natural world to create a more calming, cooperative and productive environment. Individuals love the soothing atmosphere created in a home with Howard's fine art nature photography on the walls. His background, talent, passion and willingness to explore rarely visited wild places of the American west all combine in the creation of his insightful and meaningful images. Howard is completely self taught and is now sought after to teach. Reproductions of his work number in the millions and countless lives have been improved from the positive influence of his work. Howard's many credits include diverse publications and companies such as The National Geographic Society, Warner Bros. MGM, Hallmark, AT&T, Sierra Press, Browntrout, Audubon, Healthy Planet, PhotoGraphic, Beautiful America Publications, Angel Graphics, Portal Publications, Outside, Blue Sky Publishing, Reiman Publications, Smith Western, Sierra Club, Great Mountain West, Western Image, Westcliffe Publishers, Northwest Publications and hundreds more.
To navigate Leland Howard's photographic art in themed gallery format for wall decor, prints and wall art please visit www.finestnaturephotography.com.
Leland D Howard joined Society6 on September 29, 2014.