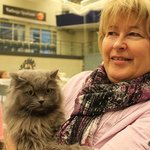 Lena M Carlsson
Artist and art teacher based in Halmstad, Sweden. I love to paint the ocean, boats, landscapes and animals! I usually work with watercolors, but sometimes in other techniques as well. I´m new at Society6, since August 4:th, 2016 - so if you like my work, please share! - And welcome to visit my website: lenacarlsson.se Lena M Carlsson joined Society6 on August 4, 2016
More
Artist and art teacher based in Halmstad, Sweden. I love to paint the ocean, boats, landscapes and animals! I usually work with watercolors, but sometimes in other techniques as well. I´m new at Society6, since August 4:th, 2016 - so if you like my work, please share!
And welcome to visit my website: lenacarlsson.se
Lena M Carlsson joined Society6 on August 4, 2016.
Lena M Carlsson's Store
18 results
Filter