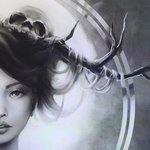 Lenamo
Illustrator and portrait artist constantly experimenting with the traditional and modern techniques. In this gallery you will find dark romantic and dream-like scenes inspired by the mythology and fantasy genre. I'm open for commissions. lenamo.art@gmail.com Follow me: www.instagram.com/lenamo.art www.facebook.com/Lenamo.art Check out my portfolio: www.lenamo.myportfolio.com Lenamo joined Society6 on September 8, 2016
More
Illustrator and portrait artist constantly experimenting with the traditional and modern techniques.
In this gallery you will find dark romantic and dream-like scenes inspired by the mythology and fantasy genre.
I'm open for commissions. lenamo.art@gmail.com
Follow me: www.instagram.com/lenamo.art www.facebook.com/Lenamo.art
Check out my portfolio: www.lenamo.myportfolio.com
Lenamo joined Society6 on September 8, 2016.