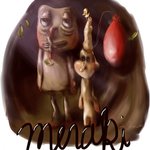 immeraki
Hi! I'm Mina a student currently majoring in visual arts. I love milk, cozy sweaters and drawing on my tablet. I dream of becoming someday a great illustrator, but for the time being I doodle and create in my free time. http://www.redbubble.com/people/immeraki/shop/stickers?ref=portfolio_product_refinement meraki (a) the soul, creativity, or love put into something the essence of yourself that is put into your work The only work ethic I go by. immeraki joined Society6 on July 14, 2014
More
Hi! I'm Mina a student currently majoring in visual arts. I love milk, cozy sweaters and drawing on my tablet. I dream of becoming someday a great illustrator, but for the time being I doodle and create in my free time.
http://www.redbubble.com/people/immeraki/shop/stickers?ref=portfolio_product_refinement
meraki (a) the soul, creativity, or love put into something the essence of yourself that is put into your work
The only work ethic I go by.
immeraki joined Society6 on July 14, 2014.