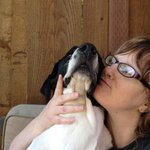 Lesley Atlansky Art
Thanks for visiting my shop! I sell reproductions of my original gouache paintings. You can buy the originals on my Etsy shop: https://www.etsy.com/shop/LesleyAtlanskyArt You can also find me on the web at www.lesleyatlansky.com. I send out a newsletter that will keep you up to date on what I'm working on and upcoming shows. Sign up at http://eepurl.com/cPsUk. I like to think of my work as geography run amok. I take my eye for the physical landscape and shape it into slightly surreal pieces that are touched with emotion. The shapes and patterns I see around me influence the spirits and topography of these ethereal dreamscapes: the curves of mountains and rivers, the density of clouds, the movement of limbs and leaves and hair. Lesley Atlansky Art joined Society6 on October 30, 2013
More
Thanks for visiting my shop! I sell reproductions of my original gouache paintings. You can buy the originals on my Etsy shop: https://www.etsy.com/shop/LesleyAtlanskyArt
You can also find me on the web at www.lesleyatlansky.com. I send out a newsletter that will keep you up to date on what I'm working on and upcoming shows. Sign up at http://eepurl.com/cPsUk.
I like to think of my work as geography run amok. I take my eye for the physical landscape and shape it into slightly surreal pieces that are touched with emotion. The shapes and patterns I see around me influence the spirits and topography of these ethereal dreamscapes: the curves of mountains and rivers, the density of clouds, the movement of limbs and leaves and hair.
Lesley Atlansky Art joined Society6 on October 30, 2013.
Lesley Atlansky Art's Store
267 results
Filter