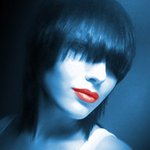 Lestrella
Hello! I'm Michelle Thayer, a visual designer currently playing in NYC and working in Silicon Alley. I got into art as a wee one, turned to illustration and graphic design as a teen, and now enjoy a combination of it all as an adult. My world is a vibrant playground filled with story-worthy experiences and beauty all around. I'm curious by nature and dive as deep as possible into every opportunity I'm presented with. My art is the output of my exploration in this fascinating world. Lestrella joined Society6 on April 3, 2012
More
Hello! I'm Michelle Thayer, a visual designer currently playing in NYC and working in Silicon Alley. I got into art as a wee one, turned to illustration and graphic design as a teen, and now enjoy a combination of it all as an adult.
My world is a vibrant playground filled with story-worthy experiences and beauty all around. I'm curious by nature and dive as deep as possible into every opportunity I'm presented with. My art is the output of my exploration in this fascinating world.
Lestrella joined Society6 on April 3, 2012.
Lestrella's Store
2 results
Filter