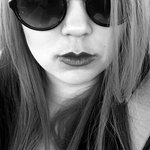 Lexi Q Studio
23 year old female artist based in Ventura California. She recently graduated from California State University, Northridge with her BA in Art and is pursuing a career as a Special Effects Makeup Artist. Her work revolves on her own personal life experiences and incorporates beauty within darkness. Some of her work turns graphic and is almost sickening, but entices viewers for her unique twist. She continues to explore her work. Lexi Q Studio joined Society6 on July 10, 2015
More
23 year old female artist based in Ventura California. She recently graduated from California State University, Northridge with her BA in Art and is pursuing a career as a Special Effects Makeup Artist.
Her work revolves on her own personal life experiences and incorporates beauty within darkness. Some of her work turns graphic and is almost sickening, but entices viewers for her unique twist. She continues to explore her work.
Lexi Q Studio joined Society6 on July 10, 2015.
Lexi Q Studio's Store
44 results
Filter