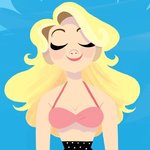 lexiSketch
My name is Alexa Terry Hanson. Most of my artwork can be found if you search the name lexiSketch. I have an Instagram under the same name, lexiSketch, that I post daily work on as well as a blog under the same name. If there are pieces that are on my Instagram that I dont have on my society6 page that you want printed just leave a comment requesting the artwork. I have had years of freelance experience with many companies including TOMS shoes and even Disney Television Animation Studios. I have had two years of character design and concept art schooling at The Animation Academy in the heart of Burbank, California (The Animation Capital). I have illustrated children's book and have created some very fun characters with amazing personalities. I am looking forward to seeing them on the shelves very soon. I have a great talent and I would love to help you with any project you have. Thank you for your time, and enjoy. lexiSketch joined Society6 on March 8, 2014
More
My name is Alexa Terry Hanson. Most of my artwork can be found if you search the name lexiSketch. I have an Instagram under the same name, lexiSketch, that I post daily work on as well as a blog under the same name. If there are pieces that are on my Instagram that I dont have on my society6 page that you want printed just leave a comment requesting the artwork.
I have had years of freelance experience with many companies including TOMS shoes and even Disney Television Animation Studios. I have had two years of character design and concept art schooling at The Animation Academy in the heart of Burbank, California (The Animation Capital). I have illustrated children's book and have created some very fun characters with amazing personalities. I am looking forward to seeing them on the shelves very soon. I have a great talent and I would love to help you with any project you have. Thank you for your time, and enjoy.
lexiSketch joined Society6 on March 8, 2014.