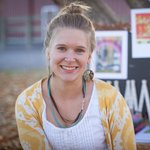 Lexisworks
Lexis Calista Krieg has created her entire life. As the maker behind Lexisworks, she blends her skills as a Denver freelancer, specializing in mixed media paintings, illustration and graphic design. Her passion lies in the vivid, mixed media paintings she creates which showcase her love for the outdoors. Lexis's mission is evident in these pieces as she encourages us all to surround ourselves with joy. www.lexisworksart.com www.instagram.com/lexisworks Lexisworks joined Society6 on February 4, 2014
More
Lexis Calista Krieg has created her entire life. As the maker behind Lexisworks, she blends her skills as a Denver freelancer, specializing in mixed media paintings, illustration and graphic design. Her passion lies in the vivid, mixed media paintings she creates which showcase her love for the outdoors. Lexis's mission is evident in these pieces as she encourages us all to surround ourselves with joy.
www.lexisworksart.com www.instagram.com/lexisworks
Lexisworks joined Society6 on February 4, 2014.
Leggings by Lexisworks
22 results
Filter