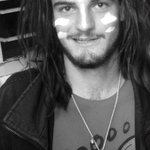 Liam Brunner
Nairobi Kenya based psychedelic Artist/Designer. Born and raised in Nairobi Kenya. I left secondary school at age 17 to pursue my current career as a freelance artist and designer. I define my work as psychedelic, 'psychedelic' which means mind manifesting, is the sole purpose of my work, to manifest itself into the viewers mind. My work also draws influence from the biodiversity and unique landscapes found within Kenya's borders. Combining more mundane traditional forms of art with a modern psychedelic twist. Liam Brunner joined Society6 on October 7, 2014
More
Nairobi Kenya based psychedelic Artist/Designer. Born and raised in Nairobi Kenya.
I left secondary school at age 17 to pursue my current career as a freelance artist and designer. I define my work as psychedelic, 'psychedelic' which means mind manifesting, is the sole purpose of my work, to manifest itself into the viewers mind.
My work also draws influence from the biodiversity and unique landscapes found within Kenya's borders.
Combining more mundane traditional forms of art with a modern psychedelic twist.
Liam Brunner joined Society6 on October 7, 2014.
Liam Brunner 's Store
23 results
Filter