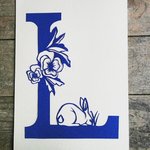 Libbysscribbles
Libby is a self taught paper cut artist currently living in Suffolk. Her work combines mainly monochrome fine paper cuts with bright splashes of collage and/or paint to create work that is inspired by, and fuses, fairytales and fantasy, nature, and fashion. All her paper cuts start as traditionally drawn designs, which are then hand cut to produce one-off, original pieces. http://www.libbysscribbles.tumblr.com Libbysscribbles joined Society6 on February 10, 2014
More
Libby is a self taught paper cut artist currently living in Suffolk. Her work combines mainly monochrome fine paper cuts with bright splashes of collage and/or paint to create work that is inspired by, and fuses, fairytales and fantasy, nature, and fashion.
All her paper cuts start as traditionally drawn designs, which are then hand cut to produce one-off, original pieces.
http://www.libbysscribbles.tumblr.com
Libbysscribbles joined Society6 on February 10, 2014.