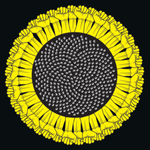 Library Seed Bank
The Library Seed Bank (LSB) is a project founded by artist and food system activist, Jeff Quattrone. LSB works with public libraries to establish seed libraries. A seed library is a collection of small packages of open pollinated and heirloom seeds that are available for free to library patrons. The seed packages are checked out like library media, and a request is made to return seeds to the seed library. There are no fines if seeds are not returned.
The artwork here is from Jeff's solo show, Growing the Food Sovereignty Revolution, Propaganda by Jeff Quattrone. The show was a homage to the Victory Garden posters the the United State's government produced during WWI And WWII. This show offered Jeff the opportunity blend his art and activism.
Food sovereignty is the right to secure culturally appropriate food by sustainable methods, and the posters reflect the components that allow that to happen. Your purchase will support Jeff in his outreach to enlighten people about securing their own food.
Read more