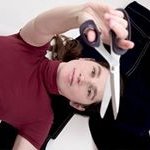 Lidija Miklavcic
Surface Pattern Designer, mixed media artist, want it all and try it a lot. Sewing freak, saw chain sculptor and industrial designer. It's hard to describe what all I want to do and try to do in life, and as my mom say, I should live for 100 years and still be at the what if…. Thanks, for stopping by…. Have an amazing day, Mik. Lidija Miklavcic joined Society6 on June 26, 2014
More
Surface Pattern Designer, mixed media artist, want it all and try it a lot. Sewing freak, saw chain sculptor and industrial designer. It's hard to describe what all I want to do and try to do in life, and as my mom say, I should live for 100 years and still be at the what if….
Thanks, for stopping by….
Have an amazing day, Mik.
Lidija Miklavcic joined Society6 on June 26, 2014.